Better, faster and more effective systems for your business
Workplace Management encompasses the management and monitoring of buildings and infrastructure. Our services include the administration and operation of your office facilities, from managing the desks and boardrooms to ensuring security access control, as well as any additional services you may require.
We provide managed office space with flexible terms.
Integrated workplace management systems
We also provide monthly reports on everything from availability to power usage and maintenance, so you'll have a complete overview of operations in order to plan and make changes where necessary.
Save Money
Improve Functionality
Maintain Focus
Create a workplace strategy that right-sizes real estate, reduces operational costs, and inspires your workforce. Integrate data, roles and goals into a proactive system that optimises daily performance, forecast needs, and enables continuous improvement.
Exponant provides comprehensive systems for optimising your built environment, whether you're keeping up with growth, reducing portfolio costs, or optimising your environment to bring out the best in people. Start simple and evolve into a system that keeps your organisation at the forefront of innovation.
While most organisations prioritise space in cost-savings initiatives, we know unassigned spaces, poor density planning, and spaces that don't reflect workplace needs further strain real estate portfolios, and so do ballooning maintenance costs, or poorly negotiated leases. We provide the insight and automation necessary to optimise your portfolio to support your budget and your people.
Rent a Desk
Increasing research is finding that although productivity initially increased during our forced work-from-home, the long-term disadvantages of lowered contact with people, collaboration and employees feeling disconnected are starting to become evident.
Companies are beginning to find that company culture, collective organisational memory and creativity are being undermined to potentially damaging levels.
Some companies are now regretting giving up their office space when it looked like the work-from- home trend was going to continue.
With this in mind, Exponant put into place an innovative model for a hybrid workplace that has the benefits of remote working, increased engagement and is flexible enough to provide room to grow.
This model also works for entrepreneurs and people who provide professional services who are finding that the disruptions of work-from-home are significantly impacting on their business.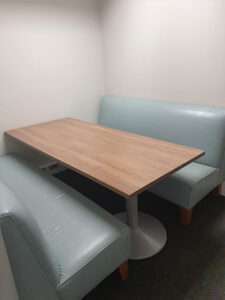 What is Rent a Desk?
Exponant's Rent a Desk is a turnkey managed workspace as our clients' outsourced business environment.
It's a fully equipped and functional, furnished office or coworking space, with supporting business services. It also has shared facilities and break-out zones.
Everything – from the décor and layout to office management and maintenance – is handled by Exponant.
We offer:
Executive offices
Collaborative workspaces

Our large (approximately 3×4.5m) stand-alone Executive offices are available on flexible agreements and we provide access to a range of facilities and support services.

Now you can focus on your core business without worrying about setting up an office and long-term contracts: there are no hidden costs or unnecessary fees.

The open-plan workspace is perfect for freelancers, entrepreneurs and small business owners.

Each standard size desk comes with internet connectivity. There is access to meeting rooms and a range of support services.

Boardrooms
Testing and Training Facilities
Our boardroom is spacious and can seat up to 12 people. It also has presentation facilities
There is a separate 8-seater enclosed area where you can set up testing and training.
Break Away areas
Shared Facilities
For more informal meetings we have two 4-seater benches with a table.
Kitchen, bathroomsx2, reception and secure parking.
There are many benefits to Exponant's Rent a Desk solution. These include:
Your productivity increases with dedicated workspace without the disruptions of home;
We provide full internet access and support so you don't have to worry about downtime and office management;
Build your company or personal brand equity by working from a prestigious address;
You can separate your home from your office so that you don't feel like you are always at work;
There is a full-time receptionist who will welcome your guests and make them feel comfortable;
This is a space to collaborate with likeminded individuals;
A vending and a coffee machine provide refreshments;
A kitchen with a fridge and a microwave is available for your convenience;
You will have secure parking for yourself and visitors;
The office park is access controlled, with 24 hours security; and
There is a gorgeous coffee shop in the office park that both delivers or caters.
For more information or to book your flexible office space, please contact Michelle at Rent a Desk on Rentadesk@Exponant.com.

We are an integrated ICT solutions provider that uses leading technologies to deliver sustainable value to corporate and public sector organisations.
Building 32, Oxford Office Park, 3 Bauhinia Drive, Highveld
Centurion
Gauteng
0157
+27 12 663 0100
Click here to contact us